HOME / Table of Contents = Civilizations - Cultures - Areas - Regions - Prehistory
Other Archaeological Sites / The Neolithic of the Levant (500 Page Book Online)

Ancient Aleppo (Halab)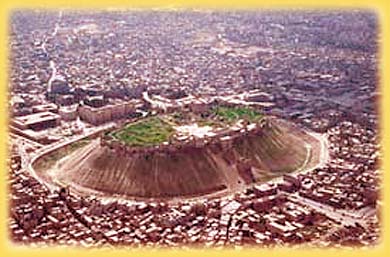 City and capital of Aleppo province in the NW part of Syria. Situated at the crossroads of caravan routes between Europe and Asia it was for centuries one of the world's main trade centers. Originally a Hittite town it was contested by Egypt in the second millennium BC and was under the Kingdom of Urartu in the ninth and eighth centuries BC. Thereafter it came under many rulers including the Assyrians -- Persians -- Romans -- Byzantines -- Arabs ... (AHSFC).
Cradled in a bowl of dry hills in northern Syria, the city of Aleppo presents an austere facade to those entering her ancient gates. Serious -- tightlipped -- sober; the adjectives often applied to her people convey a dignity befitting Aleppo's age for she vies with Damascus and Sana'a as the oldest existing city in the world.
Although ancient Aleppo's roots lie buried out of reach beneath the modern city legend connects the site to the prophet Abraham. As he journeyed southward to the land of Canaan he paused in Aleppo. He milked his cow on the citadel hill; thus the city's Arabic name Halab which is derived from the word for milk (halib) ...