HOME / Table of Contents = Civilizations - Cultures - Areas - Regions - Prehistory
Other Archaeological Sites / The Neolithic of the Levant (500 Page Book Online)

Ancient Ashdod (Azotus)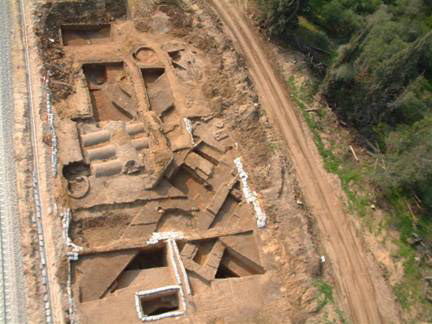 Situated ten miles north of Ashkelon on the coast of the Mediterranean Sea Ashdod was one of the cities that formed the Philistine Pentapolis. The Pentapolis was a league of five Philistine city-states which were allied for mutual economic -- military -- political benefit. The location of Ashdod on the International Coastal Highway that linked Egypt to Syria and Mesopotamia made it an important center for trade ...
HISTORICAL AND BIBLICAL SIGNIFICANCE
Ashdod was assigned to the tribe of Judah when the land was divided after the Conquest. Judah however did not conquer the Philistines who lived there. The Anakites -- a people of extraordinarily large stature -- were among the Canaanite tribes that remained in Ashdod ...
After the Philistines captured the Ark of the Covenant during the battle at Aphek they brought it to Ashdod where they placed it in the temple of Dagon. On two consecutive mornings the residents of Ashdod awoke to find that their idol of Dagon had fallen on its face before the Ark. When God brought a plague of tumors on the people of Ashdod they sent the Ark on to the city of Gath. Ashdod remained under Philistine control until King Uzziah of Judah conquered it in the eighth century BC ...