HOME / Table of Contents = Civilizations - Cultures - Areas - Regions - Prehistory
Other Archaeological Sites / The Neolithic of the Levant (500 Page Book Online)

Tel Sheva (Biblical Beersheba)

PDF Document: The Prehistoric Culture of Beersheba (654 KB) [JSTOR]
Jean Perrot -- Journal of Educational Sociology Volume 36:8:1963:371-376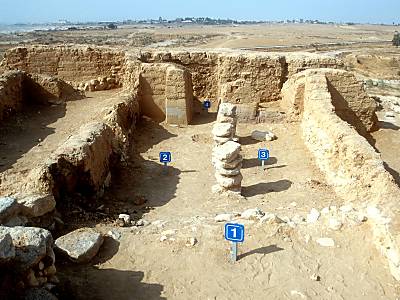 A site in southern Palestine which formed one of the desert frontier outposts. The earliest occupation belongs to the 12th and 11th centuries BC but the first town belonged to the period of the United Monarchy (lOth century). The only phase which has been excavated on any scale is Stratum II of the 8th century BC. The town wall of this period was a casemate wall with a great gateway flanked by double guard chambers and external towers. A ring road 15 metres inside the wall divided the inner and outer towns. Beersheba may have been the adminstrative centre of the region and the storerooms may have contained the royal stores for the collection of taxes in kind: grain -- wine -- oil -- etcetera. The town was destroyed in the mid-7th century BC ...