HOME / Table of Contents = Civilizations - Cultures - Areas - Regions - Prehistory
Other Archaeological Sites / The Neolithic of the Levant (500 Page Book Online)

Tel Dan (Qadi) [Laish] (Leshem)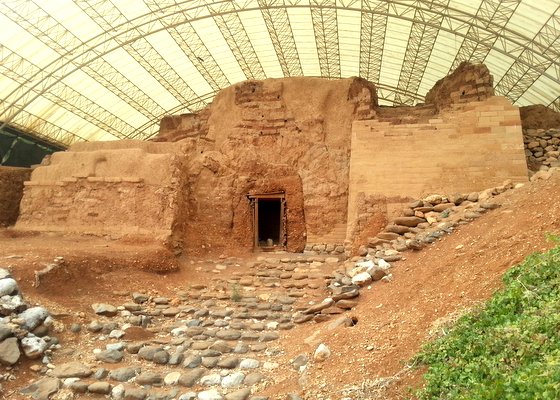 Middle Bronze Gate Built About 1800 B.C
Judges 18:27 And they took the things which Micah had made and the priest which he had and came unto Laish unto a people that were at quiet and secure: and they smote them with the edge of the sword and burnt the city with fire.
Joshua 19:47 And the coast of the children of Dan went out too little for them: therefore the children of Dan went up to fight against Leshem and took it and smote it with the edge of the sword and possessed it and dwelt therein and called Leshem Dan after the name of Dan their father ...
Background: The territory allotted to the tribe of Dan after the Conquest extended to the Mediterranean coast. When it became impossible for the tribe to possess their territory or even to defend themselves against the pressure exerted by the Philistines in the Shephelah its members sought a more secure location. The tribe sent five spies to search for a suitable place for the tribe. Ultimately they selected Laish.
During the Canaanite Period in the 18th century BC Laish was fortified with huge man-made earthen embankments which created ramparts encircling the entire city. The ramparts of Canaanite Dan constitute one of the best examples of the defense systems common in that period ...
Laish: A city of the Sidonians in the extreme north of Palestine called also Leshem. The restless and warlike tribe of Dan, looking out for larger possessions, invaded this country and took Laish with its territory. It is identified with the ruin Tel Qadi or the Mound of the Judge.
The mound of the biblical city of Dan is located at the foot of Mount Hermon [and is the northern most city of the Israelites]. The site extends over an area of 200 dunams (50 acres). Its location on the main trade route from the Galilee to Damascus made Dan the most important city of the northern part of the Kingdom of Israel ...