HOME / Table of Contents = Civilizations - Cultures - Areas - Regions - Prehistory
Other Archaeological Sites / The Neolithic of the Levant (500 Page Book Online)

Ancient Herakleion (Heracleion) and Eastern Canopus
in the Bay of Aboukir of Egypt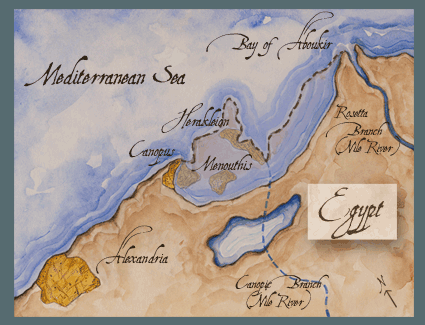 The Sunken Cities of Egypt by Holly Davis
He came to Egypt, to the mouth of the Nile called the Canopic mouth. Now there was (and still is) on the coast a temple of Heracles … They laid this accusation before the priests and the warden of the Nile mouth whose name was Thonis — Herodotus: Histories 2.113-15
This account of the detainment of Helen and Paris (Alexander) in Egypt tells more than a simple story; Herodotus subtly contextualizes the scene within (and accounts for the names of) the thriving Egyptian port city of Thonis or Heracleion in Greek, at the mouth of the Nile (1) ...
Heracleion once stood at the mouth of a branch of the Nile that has since disappeared in the sea. Before Alexandria was founded in the year 331 BC the city was the port of entry to Egypt and an important customs post known as Thonis ...
(2) Submergence of Ancient Greek Cities Off Egypt's Nile Delta—A Cautionary Tale (January 2004) PDF
Jean-Daniel Stanley --- Franck Goddio --- Thomas F. Jorstad --- Gerard Schnepp
ABSTRACT: Two ancient Greek cities, Herakleion and Eastern Canopus, originally occupied low-lying delta coastal areas along the Canopic channel of the Nile. Both were unprotected against flooding -- earthquake -- tsunami and consequent subsidence. These sites, recently discovered in Abu Qir Bay on the northwestern margin of Egypt's Nile delta, were lowered a total of 8 metres during the past 2500 years and now lie at water depths of 5–7 metres. The two cities were located along the delta coast at river mouths that flooded annually, and man-made structures were built directly on underconsolidated sediment prone to geohazards ... Without foundations -- pilings -- dikes or other protection measures it is not surprising that the sites, over the long term, were damaged and subsided completely into the bay.
The cities were originally built on the Mediterranean coast east of the ancient city of Canopus (present Abu Qir) ... Herakleion and Eastern Canopus were established as navigational centers along mouths of the Canopic when this was the largest Nile delta branch and the delta shoreline was located ~5 km north of the present coast. The cities were primary gateways to northern Egypt, where goods were transported to the major Greek trading center of Naukratis in the delta proper about 55 km inland from the present coast. Historical documentation in conjunction with archaeological information indicates that Herakleion was active from about the sixth century B.C. to the first century A.D. Eastern Canopus, the younger city, disappeared after Greek -- Roman and Byzantine rule and shortly following the Arab conquest. This is substantiated by writings of Sophronius of Jerusalem who indicated that a temple dedicated to Christian Evangelists in Eastern Canopus was still upright at the beginning of the seventh century A.D. At that time it was located on a beach with marine waters lapping against its base and coastal sand accumulating along part of its foundation. Dated gold coins discovered at the site indicate that the temple's final destruction and submergence occurred in the mid-eighth century A.D.