HOME / Table of Contents = Civilizations - Cultures - Areas - Regions - Prehistory
Other Archaeological Sites / The Neolithic of the Levant (500 Page Book Online)

Ancient Hawar (Humeima) [Humayma]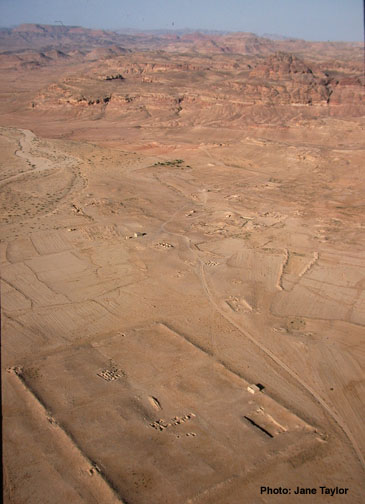 Ancient Hawar was the only substantial settlement in the HismÔ Desert in southern Jordan some 40 kilometres south of Petra. The environment is bleak desert characterized by sparse desert vegetation. A limited amount of agriculture and animal husbandry is possible in the area. Today only a few nomads live seasonally in the vicinity of the site; the modern village of New Humayma is located some 7 kilometres to the southeast.
Ancient Hawar was a small trading post and caravan way-station in Edom. It was founded by the Nabatean King Aretas III (87-52 BC) probably to serve as a centre for sedentarization of the nomadic Nabatean pastoralists who occupied the area. In 106 AD the Nabatean Kingdom became the Roman Province of Arabia and shortly thereafter a 500 person Roman fort was built at Hawar. The modest settlement prospered into the Byzantine period as indicated by the 5-6 churches identified on the site ...
The Humeima Excavation Project: Preliminary Report of the 1991 Season
Oleson and Schick in Echos du Monde Classique (Mouseion)
36 - N.S. 11:137-169 (1992)
The Humeima Excavation Project: Preliminary Report of the 1991-1992 Seasons
Oleson et al in Annual of the Department of Antiquities of Jordan
37 : 461-502 (1993)
The Humeima Excavation Project: Preliminary Report of the 1992 Season
Oleson et al in Echos du Monde Classique (Mouseion) 37 - N.S. 12:123-158 (1993)
Preliminary Report of the Humayma Excavation Project 1993
Oleson et al in Annual of the Department of Antiquities of Jordan 39 : 317-354 (1995)
Preliminary Report of the Humayma Excavation Project 1995 1996 1998
Oleson et al in Annual of the Department of Antiquities of Jordan 43 : 411-450 (1999)