HOME / Table of Contents = Civilizations - Cultures - Areas - Regions - Prehistory
Other Archaeological Sites / The Neolithic of the Levant (500 Page Book Online)

Ancient Terqa (Tell Ashara)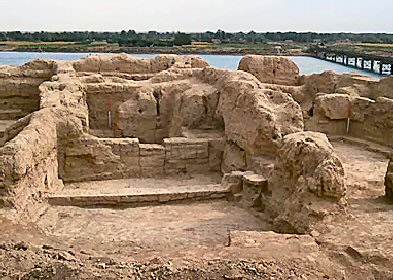 One of the most important sites in the Middle Euphrates region of Syria is Terqa on the Euphrates River. Terqa's geographic position is crucial as it is strategically located in between the Levantine coast and southern Mesopotamia. The site's importance for comprehending the origins of urbanization is shown by the complex defensive system that surrounded the city. Terqa probably had a secondary relationship with neighboring Mari by the end of the second millennium BC. Later on Terqa was the leading city of the Khana Kingdom, apparently a successor state to Mari after it fell to Babylon (circa 1760 BC). The recent excavations at the site have furnished valuable data which has brought light to the Khana Period (mid-second millennium BC), filling a major gap in our knowledge of Mesopotamian history ...
Reference: TERQA AND HARADUM: A COMPARATIVE ANALYSIS OF OLD BABYLONIAN PERIOD HOUSES ALONG THE EUPHRATES by Mark W. Chavalas (University of Wisconsin at La Crosse)