HOME / Table of Contents = Civilizations - Cultures - Areas - Regions - Prehistory
Other Archaeological Sites / The Neolithic of the Levant (500 Page Book Online)

PreHistoric Jabal -- Jebel (Mount) and Khirbat -- Khirbet (ruin) Hamrat Fidan in Jordan

See the PUNON Entry in the Encyclopedia Judaica --- Second Edition (2007)

Located in Biblical Edom 35 miles north of Petra in Jordan, Khirbat Faynān is one of the oldest sites in the Levant. The Jabal (Arabic == Mountain) Hamrat Fidan in southern Jordan marks the gateway to the Wadi Faynan District; the largest source of copper ore in the southern Levantine mainland.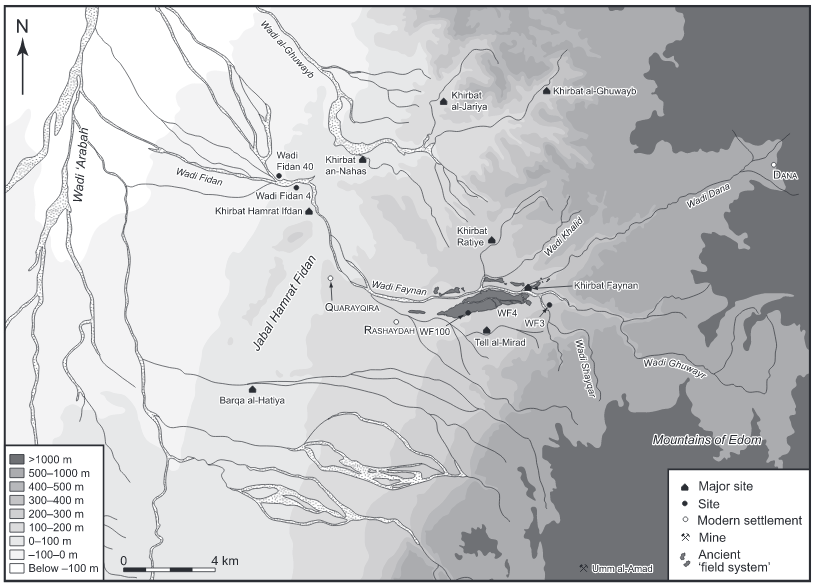 Figure 1.3 Topography of Wadis Faynan, Fidan, Dana, Ghuwayr, al-Ghuwayb, and Shayqar in relation to the major archaeological sites and the ancient 'field system' WF4 (1)
The Wadi Faynan becomes the Wadi Fidan as it approaches the low ridge of the Jabal Hamrat Fidan in a shallow gorge before it enters the great shallow trough and rift basin of the main Wadi Arabah draining north to the Dead Sea (1).