HOME / Table of Contents = Civilizations - Cultures - Areas - Regions - Prehistory
Other Archaeological Sites / The Neolithic of the Levant (500 Page Book Online)

Ancient Akkad (2334-2112 BC)

Read More About the Akkad Period on the Sumer Page
Overview: Akkad was located roughly in the area where the Tigris and Euphrates rivers are closest to each other and its northern limit extended beyond the line of the modern cities of Fallujah and Baghdad ...
Akkad is an ancient region of Mesopotamia occupying the northern part of what was later called Babylonian. The southern part was Sumer. In both regions city-states had begun to appear in the 4th millennium BC. In Akkad a Semitic language Akkadian was spoken. Akkad flourished after Sargon began circa 2334 BC to spread wide his conquests which ranged from his capital Agade (never found) to the Mediterranean shores. He united city-states into a vast organized empire. Furthermore he was overlord of all the petty states of Sumer and Akkad as were his successors -- most notably Naramsin ...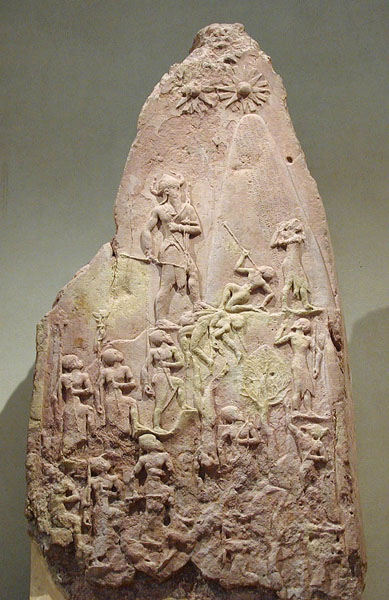 Stele of victory of Naram-Sin found at Susa whither it had been brought by the Elamite King Shutruk-Nakhkhunte as part of the booty of Sippar in the 12th century BC. The stela celebrates a victory over King Satuni of the Lullubi tribe around 2230 BC. In mountainous and wooded country the Akkadian monarch is depicted at the head of his troops protected by the symbols of his deities. Wearing a horned headdress to signify his own divinity and carrying a bow he tramples the enemy beneath his feet ...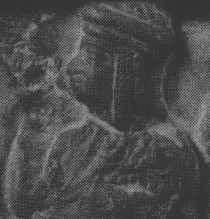 Sargon appointed one of his daughters priestess of the moon god in Ur. She took the name of Enheduanna and was succeeded in the same office by Enmenanna -- a daughter of Naram-Sin. Enheduanna must have been a very gifted woman; two Sumerian hymns by her have been preserved and she is also said to have been instrumental in starting a collection of songs dedicated to the temples of Babylonia ...